For a personalised search for a care home or care agency tailored to your precise situation and all the help you need to resolve your care problem.

Grace Consulting provides fully independent care advice to help you make the best possible care decisions.



Social Services
home / social services


The terms 'Local Authority' and 'Social Services' apply to England and Wales, and are referred to in the following information. However, these terms should be read as 'Local Health and Social Services Trust' for Northern Ireland and 'Social Work Department' for Scotland.
Social Service Departments are part of each Local Authority throughout the United Kingdom. Their responsibilities include:
Assessing individuals for Community Care Services. These services include home help/care, day care, respite, provision of aids and assistive devices, meals-on-wheels and care homes
Arranging any care services an individual may be eligible for
Providing financial support for people who have been assessed as eligible for long-term care and who meet the Local Authority's financial criteria
A care needs assessment will be carried out in order to establish what help and support is needed. Social Service Departments are responsible for this assessment, but they may need to involve other organisations, if appropriate.
There are no national rules to state how quickly a Local Authority assessment must be carried out, although some Local Authorities will set their own standards. Each Local Authority will have its own assessment procedures.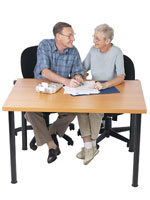 The Local Authority must carry out an assessment if:
A person appears to the Local Authority to be in need of a community care service
A person is disabled
A person is looking after someone else – relative, friend or neighbour
Once assessed, the Local Authority should make the older person's health needs known to their GP and/or any other member of the primary care team involved, for example, a district nurse.
An older person's financial situation should have no bearing on whether the Local Authority carries out an assessment or not.
An assessment may take place in an individual's own home, within a hospital or in another care setting, such as a care home. Where possible, individuals should take an active role in their assessment and should inform the assessor of all their needs. An older person's emotional and psychological needs should be taken into account as well as their physical needs.
Carers can also ask for their own care needs to be assessed.
If an older person's assessed needs meet the Local Authority eligibility criteria, the Local Authority Social Services Department has a duty to meet these needs as soon as possible.
Click Here to find out more about our recommended Independent Care Adviser.
Arranging and Financing Care Services
When the Local Authority provides or arranges care services the older person may have to contribute towards the cost. The assessment carried out includes a financial assessment to establish how much an individual should contribute.
If the older person has funds in excess of £23,250 in England and Northern Ireland, £24,000 in Wales and £26,500 in Scotland, they will generally not be entitled to assistance with funding care.
If care at home is appropriate, a home care package will be arranged and a care plan drawn up. The care plan highlights the level of care required, the services being provided, any charges to be incurred by the older person and a review date. The older person receiving the care package or their representative should be given a copy of their care plan.
The Local Authority may provide the services itself or contract with private or voluntary organisations to provide care on its behalf.
If a care home environment is required, the Local Authority will inform the individual how much it will pay and then provide information of care homes in the area within that price range. Even if the Local Authority funds a care home placement, the older person is still entitled to a choice of homes.
An individual will be assigned a Care Manager, who will be responsible for overseeing the care provided and regularly review the appropriateness of the care package in place.
The Local Authority is also able to make direct payments to individuals, so they can buy their own care services once they have been assessed as needing help.
If an older person refuses the community care services being offered, the Local Authority generally has no power to insist the care be received.
If the Local Authority decides an individual's needs do not meet its criteria, it should:
Put its reasons in writing to the older person concerned
Advise that the older person can approach the Local Authority again if circumstances change
Give details of its complaints procedure
Click Here to find out more about our recommended Independent Care Adviser.
How to find your Local Authority and Social Services
Details of Local Authority and Social Services offices can be obtained from GPs and other health care professionals, hospitals, council offices and local Citizens Advice Bureaux. Contact details will also be in local telephone directories.
This information is a general guide only to Local Authority services in the UK. The rules may vary according to each Local Authority and individual circumstances.
Click Here to find out more about our recommended Independent Care Adviser.

If you require further assistance or would like to speak to the Independent Care Adviser this site recommends please call 0800 137 669 or complete the e-mail enquiry form.