Discharge Planning
home / discharge planning

Admission to hospital, whether planned or unexpected, can be a worrying time, particularly for the older person. It is likely that within a very short time the older person and their family will want to know when they can return home and whether further care will be required.
Effective discharge planning commences as soon as the older person is admitted to hospital (earlier if there has been an opportunity to attend a pre-admission clinic), and is reviewed throughout the hospital stay.
It promotes independence and respects the older person's right to make an informed choice about options in long-term care. Any discussion relating to discharge planning should be conducted in an open and co-operative manner with both the older person and their family. They should expect to be kept informed of his or her expected discharge date throughout the hospital stay.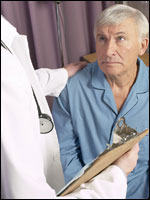 Practice will vary from hospital to hospital on procedure to be followed if ongoing care has not been arranged by the expected discharge date. Under 'Transitional Care' arrangements the hospital can arrange for the patient to be moved to a temporary care home until the ongoing care has been organised. If it is clear though that there is good reason for the delay and that the period of delay will be short, the hospital may exercise its own discretion and delay discharge.
In January 2003, the Department of Health issued " Discharge from Hospital: pathway, process and practice" to assist the multi-disciplinary team with discharge planning. Fundamental to its approach is that " discharge from hospital is a process, not an isolated event."
As part of this process, an assessment will be required to determine the level of care and support needed on discharge from hospital. How this information is gathered will vary according to local policy at individual hospitals. However, it is likely to be the shared responsibility of all members of the multi-disciplinary team within the hospital who are involved in the older person's care. Members of this team may include social workers, nurses, occupational therapists, physiotherapists and speech therapists.
For a free, no obligation, chat with an Independent Care Adviser call 0800 137 669.
During the course of this assessment a number of care solutions may be identified, including for example:
Support in the older person's home with a package of health and /or social care.
e.g. visiting carers, District Nurse, Meals on Wheels
Intermediate care, usually lasting up to six weeks to support and/or rehabilitate the older person in their own home.
Admission to a Care Home ( formerly a Residential Home )
NHS Continuing Care - where the needs of the older person meet the criteria for Continuing NHS Healthcare (i.e. healthcare needs are complex) funded fully by the NHS (whether this is provided in an NHS hospital, a nursing home, a hospice or in the older person's own home).
However, for some people the most suitable care option will be a Care Home with Nursing.
For a free, no obligation, chat with an Independent Care Adviser call 0800 137 669.
If a decision to go into a Care Home with Nursing has been made, there needs to be an assessment of how much nursing care is required. This is called NHS Funding for Nursing Care within Care Homes with Nursing or The Set Contribution.
An NHS Nurse assesses the level of nursing care a resident needs and the NHS pays for this nursing care in the home. In England, the Set Contribution is £110.89 per week (for funding levels in Scotland, Wales and Northern Ireland, please see NHS Funding for Nursing Care in Paying For Care).
For residents who are paying all their nursing home fees themselves, their health authority will arrange to make the payments direct to the nursing home. Where a resident is funded by the local authority, there will be no consequence to the individual.
For a free, no obligation, chat with an Independent Care Adviser call 0800 137 669.
When the right care solution for the older person has been identified, decisions have to be made by the NHS and the Local Authority on whether to provide treatment and/or support. The Registered Nursing Care Contribution is an example of this. However, both the NHS and the Local Authorities have to take their own resources into account when setting eligibility criteria.
Generally speaking, if the older person has assets of more than than £23,250 in England (£24,000 in Wales, £26,000 in Scotland and £23,250 in Northern Ireland) they are considered by the Local Authority to be self-funding. The value of the older person's home is only included in this calculation when residential care is required (unless for example, a partner will continue to live there).
This means that if the older person requires care at home or needs to live in a Care Home or Care Home with Nursing and they are assessed as self-funding, they and their family must arrange that care themselves. Guidance on how to proceed may be given by either Social Services or a Discharge Liaison Nurse. Alternatively the older person and their family may seek independent advice on their long-term care options.
For a free, no obligation, chat with an Independent Care Adviser call 0800 137 669.
If the older person's preferred home or care agency is unable to provide care when it is required, the hospital may arrange care in an alternative home. This is known as "Transitional Care" and is intended as a temporary arrangement. Transitional care is defined as "care provided to a person who is not able to be placed in their own home or permanent setting of their choice but who still requires a supportive and appropriately staffed environment to live in". It recognises that once the older person is medically fit for discharge, it is not appropriate for them to remain in an acute hospital setting. Acute Hospitals have an agreed policy to address this situation and the older person and their family will be given notice of their intention to consider Transitional Care.
For a free, no obligation, chat with an Independent Care Adviser call 0800 137 669.
This demonstrates the need for effective discharge planning. Communication and co-ordination are essential if an unnecessary and often distressing move are to be avoided. Indeed, many older people are now considering their long-term care before the decision is forced upon them by an unexpected hospital admission.
For a free, no obligation, chat with an Independent Care Adviser call 0800 137 669.

If you require further assistance or would like to speak to the Independent Care Adviser this site recommends please call 0800 137 669 or complete the e-mail enquiry form.