Care Assessment
home / choosing a care home / care assessment
See Also: Choosing Care / Care at Home / Assistive Devices / Respite Care
Many issues need to be considered when making assessments for long-term care. Information about these issues is gathered by means of a care needs assessment.
Typically this assessment will be carried out either by Social Services, by a hospital multi-disciplinary team co-ordinated by a Discharge Liaison Nurse, or in the community by members of the Primary Care Team such as a District Nurse or Special Worker for Older People (formerly Health Visitor for the Elderly). The source of the assessment will depend on the older person's circumstances when the need for long-term care is identified.
The Government is currently introducing the Single Assessment Process as outlined in the National Service Framework for Older People. It recognises that many older people have both health and social care needs and that agencies need to work together so that assessment and subsequent care planning are tailored to the individual, effective and co-ordinated.
Central to the assessment are the older person's own needs and wishes and it is important to remember that an assessment does not mean that advice given has to be taken. An assessment can also be carried out by an Independent Care Adviser who, with the older person's consent, will liaise with the social or health care professionals involved until the right care solution is found.

Assessments of long-term care needs may vary according to both source (hospital, Social Services or community team) and local policy, but will generally cover the following:

Current home environment e.g. bungalow, sheltered accommodation or care home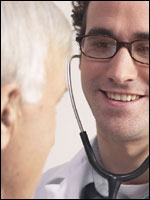 Available support - support already provided by carers should be explored to establish the nature of the support, the strength of the relationship and the support the carer may require to help them continue to care for the older person.
Ability to perform activities of Daily Living such as:
Mobility
Eating and drinking
Using the toilet
Getting washed and dressed
Preparing light snacks and meals
Home requirements e.g.
Personal care
Domestic help
Food services
Personal alarm
Relevant medical history and medication (including mental health issues)
Prognosis and likely outcome
Rehabilitation potential:
Physiotherapy
Occupational therapy (including assistive devices)
Speech therapy
Likely need for registered nursing care - when discussing options of care and the most suitable setting for this care, consideration is given to the stability, predictability, risk factors and complexity of the older person's problems.
Funding:
Private funding (assets over £23,250 in England, £26,000 in Scotland, £24,000 in Wales and £23,250 in Northern Ireland)
Eligibility for Local Authority or NHS funding
Eligibility for State Benefits
When the assessment has been completed, the NHS and Local Authority have to decide whether to provide treatment and / or support.
The NHS will be guided by the "National Service Framework for Older People" which sets out the country's standards and guidelines with regard to the care of older people, and ensure that decisions are based on clinical need.
The Local Authority will be guided by "Fair Access to Care Services".
However both the NHS and the Local Authority have to take their own resources into account when setting eligibility criteria.
Irrespective of funding issues the older person will need guidance to ensure they obtain appropriate care within the resources available to them.

If you require further assistance or would like to speak to the Independent Care Adviser this site recommends please call 0800 137 669 or complete the e-mail enquiry form.